Meet the caretakers of the Itoigawa Shimpaku!
Local Bonsai Gardens with Itoigawa Shimpaku
The best place to start your journey is at one of Itoigawa's local bonsai gardens.
There are three bonsai gardens in Itoigawa which care for Itoigawa Shimpaku. Each master has his own techniques and style of bonsai and feel strongly about this precious tree, so be sure to talk with each of them to learn more about it!
Of course, many of the trees at their gardens are available for purchase.
Himekawaen Garden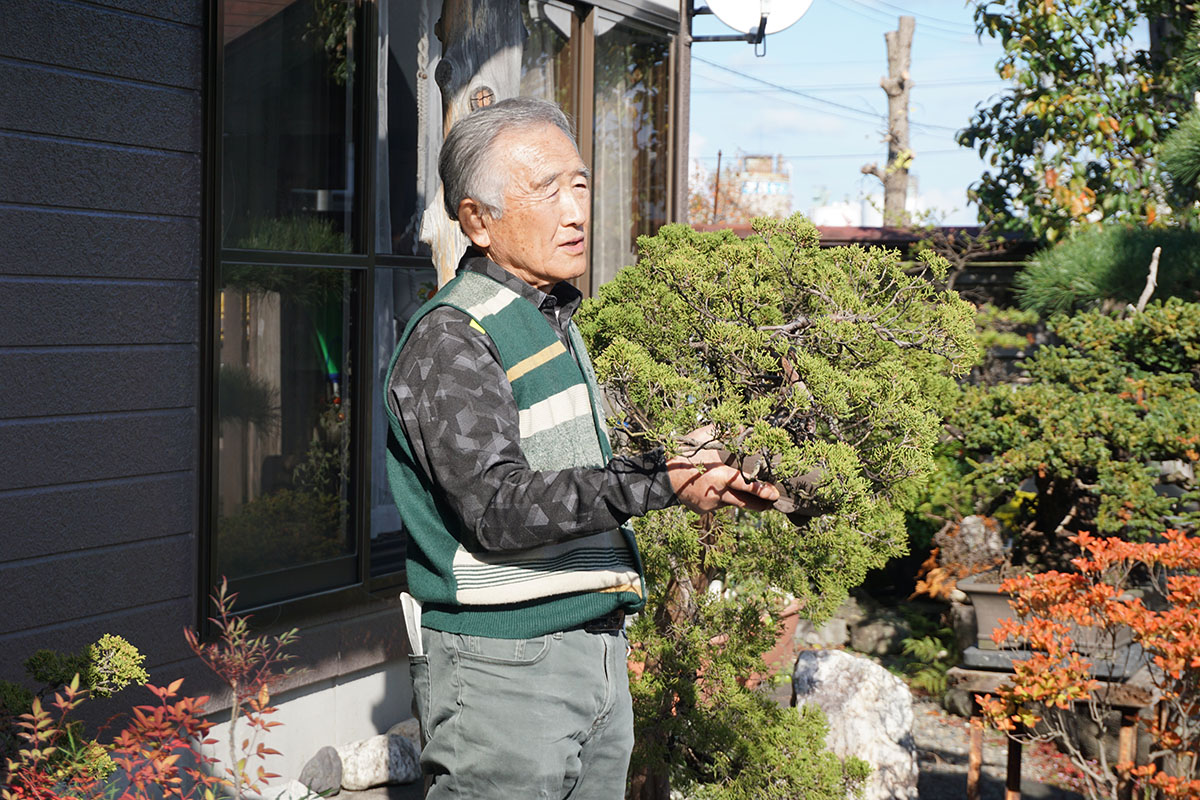 Himekawaen Garden hosts a wide variety of trees, large and small, with many Itoigawa Shimpaku which were harvested from the wild 35 to 80 years ago. Mr. Umezawa works to create bonsai with forms that represent the tree's rugged natural habitat and elegant form, with an airiness that gives viewers a sense of the wind.
Message from Mr. Umezawa:
"The Shimpaku has a delicate, elegant appearance which belies its rugged, rocky habitat, where it clings to life fed at times only by dew and fog. It is with this in mind that I avoid using fertilizer. Each day I work to create forms which are both severe and refined, making use of negative space to evoke a sense of the wind."
Kataoka Garden
421-1 Ōno, Itoigawa, Niigata
Located near Itoigawa IC and JR Oito Line's Himekawa Station, Kataoka Garden is perhaps the most easily accessible gardens in Itoigawa. In addition to Itoigawa Shimpaku trees, both small and large, this garden also features a wide variety of wild grasses and flowers for sale. Mr. Kataoka works to use the Itoigawa Shimpaku's beautiful white shari and curving trunk and branches to showcase the versatility of this tree and the diversity and individuality to be enjoyed in bonsai.
Message from Mr. Kataoka:
"Shimpaku is a versatile tree. Its characteristic shari and pliability lend to a wide variety of forms, making it easy for beginners to create and shape their own personal bonsai. It is also quite resilient to heat, cold and disease, so as a bonsai it is very easy to care for. I really hope you enjoy the bountiful nature in Itoigawa as you learn more about the beautiful Itoigawa Shimpaku."
Ōta Shōfūen
343 Negoya, Itoigawa, Niigata
Ōta Shōfūen sits at the entrance to Nechi Valley, with Mt. Amakazari and Mt. Komagatake towering in the distance. Mr. Ōta makes use of the Itoigawa Shimpaku's beautiful white shari to create trees in the bun-jinmoyōgi style which look as though they are still clinging to the mountain cliffs.
His trees range from medium-to-large sizes, most of which were harvested from the wild decades ago.
Message from Mr. Ōta:
"I hope to continue working to make trees which appear as they would in their natural habitat. I draw inspiration from Mt. Komagatake and Mt. Amakazari when shaping the trees in my care."